Police Department Career Opportunities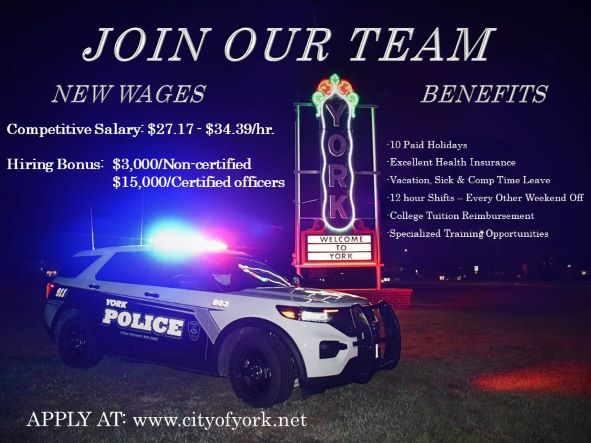 NOW HIRING!
The York, Nebraska Police Department is currently hiring for multiple Police Officer positions.
York offers more than a "job", we offer the chance to make an active difference in the community with a meaningful career. York PD enjoys great local support from residents and businesses, and positive working relationships with stakeholders such as the local schools. We constantly strive to expand our involvement within the community; we are part of many local celebrations and events, and have representatives on several local boards/committees. The York Police Department believes in modern policing, but embraces our small-town culture. If you have goals that include helping others, having meaningful impact, and enjoying the pride that comes with serving your community, the York Police Department welcomes your application.
These positions are secure, full-time positions with recently updated pay and benefits, including paid overtime and holidays, and excellent family health insurance. The York Police Officer base pay scale ranges from $56,514 to $71,539 annually. Certified or experienced officers starting wages are based upon experience and qualifications. We have recently updated both our written exam and hiring procedures, and are offering $3,000 sign on bonuses for new officers and $15,000 bonuses for certified officers.
Applicants must be at least 21 years of age, have the ability to obtain a valid Nebraska Driver's License, and have obtained a high school diploma or equivalent. Applicants must pass rigorous background checks, a pre-employment drug screening, and undergo a series of written, physical, and psychological tests. Officers of the York Police Department are required to live in York County.
York Nebraska is a quiet, Eastern Nebraska community of approximately 8,000 residents, located at the intersection of Interstate 80 and Highway 81. Residents in York enjoy ample opportunities for outdoor activities, excellent public and private schools, and a wide array of local entertainment and activities. The police department is made up of 18 sworn officers, a community service officer, and 2 civilian support staff.